Time
8.00am - 8.45am: Registration & Morning Coffee Break 
8.45am - 4.00pm: Conference
Venue
Aviva Stadium, Dublin
Description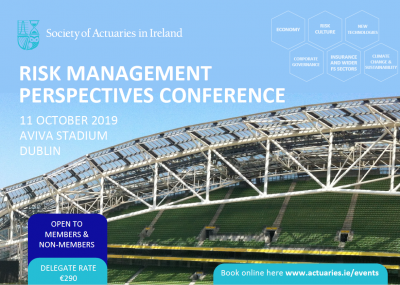 The Society of Actuaries in Ireland is pleased to announce the date for the Risk Management Perspectives Conference 2019, which will take place on Friday, 11th October in the Aviva Stadium, Dublin.
This event provides an excellent opportunity to network and to gain insights from industry leaders (INEDs, C-Suite and Regulators) in insurance and in wider financial services. Senior executives and board members attending this event will be better positioned to navigate and steer organisations through existing and emerging risks.
Sessions on the day will cover a range of topics including:
Economy
Risk Culture
New Technologies
Corporate Governance
Insurance and Wider Financial Services Sectors
Climate Change and Sustainability
Please see below document for further information on confirmed sessions and presenters.
Additional information (including agenda) is below.
Please note this event is open to both member & non-member attendees.
Speakers/Presenters
Please see Agenda
LIA Accreditation: This event has been accredited by the LIA.
Institute of Bankers Accreditation: This event has been accredited by the Institute of Bankers.