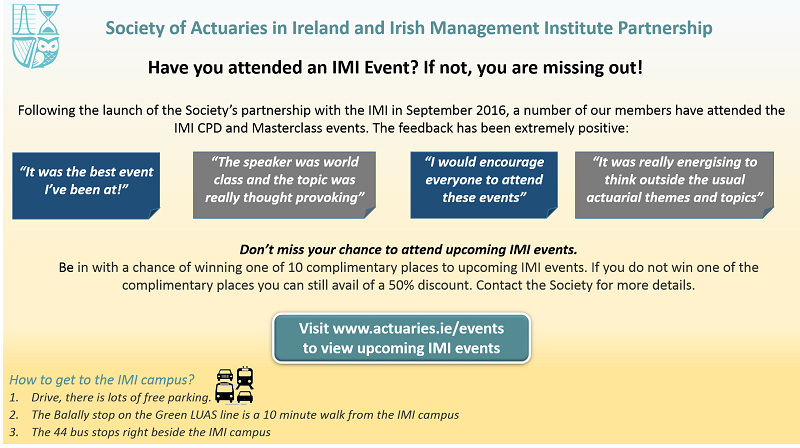 Announcing the renewal of the partnership between the Society of Actuaries in Ireland and the Irish Management Institute (IMI)
Who are the Irish Management Institute (IMI)?
IMI is a membership organisation, comprising more than 240 corporate members, which reflects a spectrum of Irish industry, from the smallest micro-organisations to the world's largest multinationals. For sixty years IMI has pioneered the development of executive education in Ireland. Thousands of senior executives attend developmental programmes at IMI annually. These range from NFQ level 9 Masters and Diploma qualifications, to one and two day master classes. IMI also acts as a "business partner" for organisations that are looking to align comprehensive learning and development strategies to support the execution of business growth strategies.
Common to all IMI programmes is the translation of academic best practice to real-world solutions for practising managers. In 2017, IMI has been recognised for the ninth year running as the only Irish business school to be ranked globally by the Financial Times for the provision of customised executive education.
In early November, we will be able to share with members the suite of solutions available in 2018.  
What are the benefits of this partnership?
1.  Access to the IMI Knowledge Centre
The IMI's Knowledge centre is a library and online resource. A link can be found here http://library.imi.ie/.  The Library has some new additions in the form of bitesize content for current and aspiring Managers in our Manager's Toolkit section with advice and guidance on a large range of workplace situations. 
2.  Complimentary quarterly Advant-edge Series workshops
There are 10 complimentary places at each of the quarterly Advant-edge Series workshops (40 per year) and a discount of 50% for additional attendees. These Advant-edge workshops replace the old CPD workshops, are aimed at mid to senior level managers, and are designed to ensure managers are constantly refreshing and enhancing their management and leadership knowhow.  Examples of Advant-edge workshops during 2017 were:
Why Fostering a Growth Mindset in Organizations Matters led by IMI Associate Faculty, Philip Matthews.
A Growth Mindset through the Lens of Trust, Commitment and Engagement led by members of the IMI Faculty.
A list of this year's events and past events can be seen here: http://www.imi.ie/events.
3.  Complimentary IMI Masterclasses
There are 10 complimentary places at each of the four IMI Masterclasses (40 per year) and a discount of 50% for additional attendees. The IMI's Masterclass series brings together global thought leaders on work practices, organisations, leadership and management to share their ideas and lead the discussions in half-day Masterclasses held at the IMI campus in Sandyford, Dublin. They are aimed at senior executives across both the private and public sectors. Examples of Masterclasses during 2017 were:
The Future of Work – Managing Careers across the Lifespan led by Jennifer Petriglieri
Leadership and Beyond led by Manfred F.R.Kets de Vries in Cork and Dublin
A list of this year's events and past events can be seen here: http://www.imi.ie/events
4.  Complimentary passes for the IMI National Management Conference
There is 1 complimentary pass for C-suite level executives or senior managers at the annual flagship event, the IMI National Management Conference. This is a 1 day event which attracts an audience of over 250 of the country's top public and private sector leaders, and is considered to be Ireland's premier networking event.
5. Unlimited access to Thought Leadership Webinars
There is unlimited access to two Thought Leadership Webinars.  These webinars are recorded for future consumption.  The 1st webinar was delivered with Deloitte and discussed emerging trends and insights around the millennial workforce.  Below is a link to the presentation.  
https://www.youtube.com/watch?v=T-2EAsg6fDU&t=13s
The IMI will also be recording 2 further sessions via a live stream from the National Management Conference:  
The Future and What To Do About It Mark Stevenson – Mark is one of the world's most respected thinkers on technology and societal trends.  Mark will discuss the future, helping you see where the world is going and how to adapt to help you and your organisation prepare for it.  
Holacracy – A New Management System Brian Robertson - Brian is well-known for his work in developing Holacracy™, a revolutionary new management system that redefines organisational structure and turns everyone into a leader.  
6. Discounts on IMI Programmes
Members can also avail of generous discounts on short and diploma programmes delivered in Dublin and Cork.  These programmes are aimed at supporting your professional and personal development across individuals in early, mid or senior careers.
http://www.imi.ie/media/New-Short-Programme-Guide.pdf http://www.imi.ie/media/Short-Programme-Dates-Autumn-2017.pdf
FAQs
Does the partnership cost the SAI money? Yes, the SAI is paying the IMI a fixed fee for a year's membership. This partnership is being renewed for a second year and we will continue to assess the take up of services by SAI members. If members are availing of the services then the SAI will consider further renewing the membership. To monitor the usage by members it is important that when members sign up they list the SAI as their employer.
How will the complimentary places be assigned? Before each event the SAI will send an email asking members to respond if they are interested in availing of one of the complimentary places. Members who respond will be entered into a draw and the winners will receive the complimentary places. Winners will receive a code which they can use to book the event at no charge. It is important to note that members will still need to book the event with the IMI. Responding to the SAI email will not book the event for you.
How do members sign up? To access the library members must register with the IMI using this link: http://library.imi.ie/register-for-access Members can sign up to attend CPD/Masterclass events via the events page on the IMI website using a code for complimentary places or for the 50% discount: http://www.imi.ie/events NB: Please remember to enter the SAI as your employer when registering, otherwise usage will not be recorded and membership may not be renewed.
Will attending IMI events count towards SAI CPD? Yes, members can use attendance at IMI CPD events towards fulfilling their SAI CPD requirements. If the topics covered in the talks are relevant to your role, then attendance can be counted towards member's 'Relevant CPD' requirements.
Can all SAI members attend an IMI event? No, attendance at IMI events is limited to Fellow members of the SAI and to a certain number of places for each event. Attendance is limited to 30 places for CPD events and Masterclasses (including the complimentary places), as the IMI try to ensure a broad range of industries and companies are represented at each event.
What other companies/organisations attend IMI events? A broad range of companies and organisations attend IMI events e.g. The Pharmaceutical Society of Ireland, The Society of the Irish Motor Industry, The Bar Council, Enterprise Ireland, IDA Ireland, ICS Skills (Irish Computer Society), FAI, IRFU, Irish Rugby Union Players Union (IRUPA). Members of the SAI who work (or who may potentially work) in the wider fields may find the broad range of attendees useful for networking opportunities with people who work in different industries. All IMI events referred to above will be included on the Society's Calendar of Events which is posted to the Society's website here.
September 2017