Time
3.30pm - 4.00pm: Tea/Coffee Reception 
4.00pm - 6.00pm: Forum
Venue
Chartered Accountants House, 47-49 Pearse Street, Dublin 2
(Purple Hall - Lower Ground Floor)
Description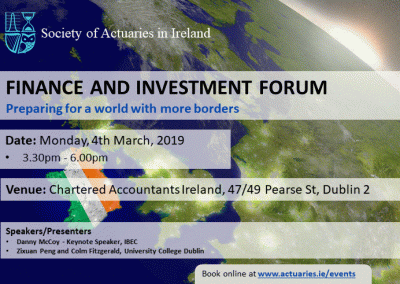 Please note that all places for this event for CFA Ireland members are now full. 
We are all inundated with news about Brexit and trade tariffs. Increasingly the public narrative of these issues lacks impartiality and is often driven by fake news. 
This year's F&I forum aims to provide a deeper and more astute perspective on the politic and economic landscape, in particular the US/China trade war and Brexit.
We are delighted to have our keynote speaker, Danny McCoy, to give a deeper insight into how Irish businesses are preparing for whatever Brexit may bring and for a world that might have more borders. As CEO of IBEC, Danny brings a useful perspective from across the Irish business landscape.
Zixuan Peng and Colm Fitzgerald of UCD will outline the key elements from Zixuan's research into trade wars. These will include an overview of the history of trade wars, the key elements of trade war theory and they will specifically look at the US / Chinese trade war from an economics, political and psychological perspective. This will provide a much deeper and more powerful narrative on trade tariffs for those attending.
The forum will finish with a few short presentations, including an overview of the work of the Society's Environmental, Social & Governance Working Group and an update from the Finance & Investment Committee.
Speakers/Presenters
Danny McCoy - Keynote Speaker
Zixuan Peng and Colm Fitzgerald, UCD
LIA Accreditation: This event has been accredited by the LIA.
Institute of Bankers Accreditation: This event has been accredited by the Institute of Bankers.