Members Only Event
You must be a member of the Society of Actuaries in Ireland to attend this event.
Time
7.30am - 8.00am: Light Breakfast
8.00am - 10.00am: Forum
Venue
The Davenport Hotel, 8-10 Merrion Street Lower, Dublin 2
Description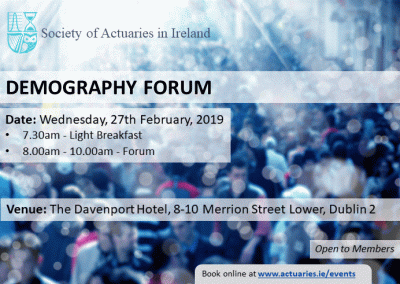 The Demography Committee is pleased to host a morning of mortality insight and discussion. The session is accessible to interested members at all levels of experience and will cover the following topics:
Introduction and overview of work of the Demography Committee (Caroline Twomey & Aidan Kennedy)
The Irish Insured Lives Mortality Investigation (Shane Prendergast & Caroline Twomey, SAI Demography Committee) Shane and Caroline will present the Societies' upcoming paper on the Irish Insured Lives Mortality Investigation (IILMI). Based on data from a number of domestic insurers, the paper looks at the experience of Irish Annuity and Assurance business relative to a range of industry mortality tables.
Improvements in the Irish population with consideration for a variety of improvement projection models (Karl Murray & Mary Hall, SAI Demography Committee)
Recent developments in UK Mortality and Improvements (Matthew Edwards, CMI Executive) Matthew will discuss recent CMI work on developments in UK mortality and improvement. This will include discussion of:

Recent trends in improvements including CMI_2018 and improvements amongst the under 60s
Recent annuity and assurance experience and what this might mean in terms of future mortality tables
Recent pensions experience and the S3 tables
Speakers/Presenters
As per agenda
LIA Accreditation: This event has been accredited by the LIA.
Institute of Bankers Accreditation: This event has been accredited by the Institute of Bankers.