Time
6.00pm - 6.30pm: Tea/Coffee Reception
6.30pm - 7.45pm: Presentations
7.45pm - 8.45pm: Drinks & Finger Food Reception
Venue
The Alex Hotel, 41-47 Fenian Street, Dublin 2
Description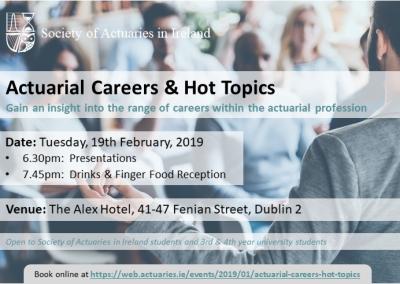 Student members of the Society of Actuaries in Ireland and 3rd & 4th year university and masters students.
This is an invaluable opportunity both for SAI students and university students to gain an insight into the range of careers available within the actuarial profession.  Presentations will be given by recently qualified members of the Society and will cover the 'traditional' actuarial areas of Life & Healthcare, General Insurance, Reinsurance and Pensions & Investments, but also the careers available in non-traditional actuarial fields and tips for studying for the actuarial exams.
Students may still be deciding which area is most suited to them.  The presentations will provide an excellent way to learn more about the range of potential careers available and an opportunity to listen to the advice offered by those who have recently qualified. There will be a Questions & Answers session following the presentations and also an opportunity to chat through any questions over drinks following the meeting.
Presentations will cover:
Life & Healthcare
General Insurance
Reinsurance
Pensions & Investments
Actuarial Careers including careers in non-traditional actuarial fields 
Studying for the Actuarial Exams
Speakers/Presenters:
Jenny Quigley FSAI
Méabh Kennedy FSAI
Orla McManamly
Joanne Lonergan FSAI
John Moran FSAI
Jenny Johnston FSAI
Cian Breathnach