Event Type
Virtual Convention
Description
Following the success of the Annual Convention last year, we are very pleased to have held the Annual Convention 2021 in a similar format. This year the Annual Convention took place on Wednesday, 29th September, virtually. If you missed out, register now to watch recordings of the event.
CLICK HERE TO VIEW OUR ANNUAL CONVENTION 2021 PROMOTIONAL VIDEO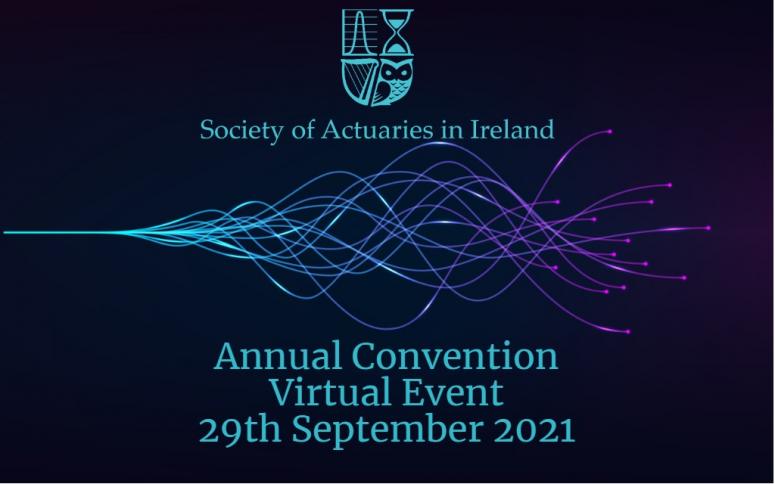 The majority of presentations were pre-recorded and broadcast on the day, on our virtual platform, with live Q&A segments incorporated to each of the presentations. 
All the content from the day is available to watch on the platform afterwards to those who register here for the Convention.
There are 20 presentations, in 3 parallel sessions plus 2 plenary sessions, including:
Climate-related risk for Life Insurers
Pension Scheme Risk Management – A Trustee Perspective
Remote Working: The Ingredients for Success
Non-Life reserving in periods of heightened uncertainty
Fractals and Hedging
Our keynote speaker is the leading behavioural scientist Professor Pete Lunn, founder and head of the ESRI's Behavioural Research Unit.  Pete's research interests range from economic decision-making and how people negotiate trade-offs to environmental and major public health outcomes, with much in between.  He gives a talk on "Money, Measurement and the Mind: Using Behavioural Science to Improve Financial Decisions" - it was a fascinating session.
Click here to see the full programme.
Rates for attendees are as follows:
€200 for member and non-member attendees
€100 for:
o   Student members
o   Members working as full-time academics
o   Members who qualify for the "retired" member subscription rate (see subscriptions schedule)
Please note: Access to the dedicated event platform will be issued to all those who have booked to attend, the Convention via this SAI webpage.
By booking to watch the Convention, you consent to the sharing of your personal data (name, company and email address) with CrowdComms and the Convention Centre Dublin to the extent required for arranging access to the platform.
Thank you to our sponsors this year! Milliman | Raretec Recruitment | Reitigh | SCOR | Utmost
Sponsor
From the Sponsor

Milliman
As the largest actuarial consultancy serving the insurance industry in Ireland, Milliman's expertise is unmatched. We are proud of our role in creating a strong and vibrant Irish insurance industry, and have provided actuarial and strategic consulting advice that helped set up many Irish insurance companies. Our team of expert consultants takes the utmost responsibility in safeguarding the interest of our clients' policyholders, and will always look out for your best interests. We take great pride in the depth and longevity of our client relationships. To find out more, visit: ie.milliman.com

 

Raretec Recruitment Ltd.

Raretec Recruitment specialises in the placement of actuaries for both permanent and contract positions throughout Ireland. We recruit actuaries at all levels, including part-qualified actuaries, qualified actuaries, directors, PCF positions, and occasionally INEDS. The business has specialised in placing actuarial talent for over 10 years and is a trusted advisor to organisations and individuals alike. Our service is discreet and confidential.  Contact Jacqui, Carina, Rebecca, Niamh or Harrie on 015311400 or email at recruitment@raretec.ie 

Reitigh 

Reitigh is a team of actuaries and software professionals that enable leading global financial services organisations to meet complex administrative, regulatory, and transformational processing challenges.

Reitigh has developed an evolutionary technology called IntegraLynx that translates between Business and IT Functions - liberating actuaries and operations teams from mundane manual tasks, gifting them the time and opportunity to focus on adding value to their organisation.

SCOR

SCOR, the world's fourth largest reinsurer, offers its clients a diversified and innovative range of solutions and services to control and manage risk. Applying the "The Art & Science of Risk", SCOR uses its industry-recognized expertise and cutting-edge financial solutions to serve its clients and contribute to the welfare and resilience of society.

SCOR offers its clients an optimal level of security with its AA- rating from S&P and Fitch. The Group generated premiums of more than EUR 16 billion in 2020 and​ serves clients in more than 160 countries from its 36 offices worldwide.

Utmost

The principle business lines of Utmost International are Utmost Wealth Solutions and Utmost Corporate Solutions: Utmost Wealth Solutions provides insurance based wealth solutions to clients to help safeguard their wealth for future generations. Utmost Corporate Solutions provides specialist employee benefits including group life, income protection and critical illness cover, as well as pension plans, to its international client base. Utmost International operates in markets across the UK, Europe, Latin America, Asia and the Middle East. Utmost International is a part of the Utmost Group. Utmost International have c. €33 billion in AuA, 130,000 clients serviced by 800 staff and an 'A' Insurer Financial Strength Rating with Stable Outlook from Fitch Ratings at 31 December 2020. To find out more, visit: utmostinternational.com
If you are interested in taking up a sponsorship opportunity for any other event with the Society, please contact info@actuaries.ie.
Cost (members)
€200 (€100 for Student / Retired / Full-time Academic/ Presenter)