Time
Start time: 2.00 pm
End time: 3.30 pm
Description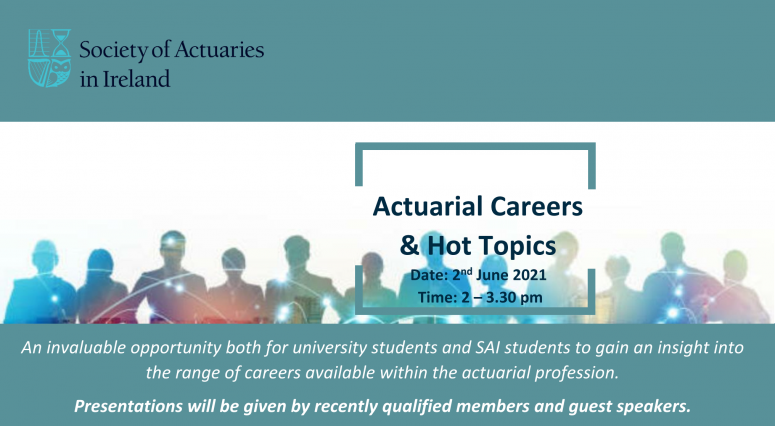 The recording of this webinar is now available for a limited time to watch on:
Audience: University students (undergraduate and masters/postgraduate), student members of the Society of Actuaries in Ireland (SAI) and university lecturers.
Format
This is an invaluable opportunity both for university students and SAI students and guests to gain an insight into the range of careers available within the actuarial profession.  Presentations will be given by recently qualified members of the Society and will cover the 'traditional' actuarial areas of Life & Healthcare, General Insurance, Reinsurance and Pensions & Investments, but also the careers available in non-traditional actuarial fields.  This year, we will also signpost university students to the new developments and roll-out of banking exams from the Institute and Faculty of Actuaries with exams due to take place in 2022. For further details about this development please also refer to the Student News (March 2021) feature which can be found at the link here.
Students may still be deciding which area is most suited to them.  The presentations will provide an excellent way to learn more about the range of potential careers available and an opportunity to listen to the advice offered by those who have recently qualified. There will be an online Questions & Answers session following the presentations.
Presentations will cover:
Life & Healthcare
General Insurance
Pensions & Investments
Overview of actuarial recruitment/market for actuaries (Acumen Resources)
Banking/Wider Fields
Speakers/Presenters include:
Eva McEneaney
Alison Smith
Orla Hennebry
Colin Hanley
Mairead O'Shea (Banking)
Jenny Johnston (Acumen Resources)
Biographical details
Eva McEneaney - Chair of the Recent Qualifiers' Committee
Eva McEneaney qualified as an actuary in 2017 and has worked in the life insurance industry for the last 7 years. After graduating from DCU's Bachelor of Actuarial Mathematics in 2014 she joined New Ireland Assurance, where she worked for 4 years before moving to Standard Life. Her roles have mostly focused on Solvency II reporting. Eva is the Chair of the Recent Qualifiers' Committee and also contributed to the improvement of the ERM Database during its 2018 refresh.
Alison Smith
Alison graduated from UCD 4 years ago before starting work in PwC, working across both life and non-life teams. Alison qualified last year as a Life actuary, and is working exclusively on the life side in PwC now.
Orla Hennebry
Orla is an Associate Director of Risk at Willis Towers Watson, having joined the P&C practice in Ireland in 2013 from DCU. Orla is active in industry and professional matters and is a member of the Lifelong Learning Committee of the Society of Actuaries in Ireland. In her role at Willis Towers Watson, Orla provides support for outsourced Head of Actuarial Function for Irish and European personal lines insurers and Dublin-based captives in addition to assisting in regulatory reserve and capital modelling reviews for international personal line and commercial line insurers.
Colin Hanley
Colin has worked on the pensions team in PwC since joining as a graduate in 2014.  In his role, Colin provides advice to employers who sponsor pension schemes on a wide range of topics including funding challenges, restructuring projects, pension aspects of mergers and acquisitions, and accounting disclosures. He also provides advice to trustees around funding requirements and to high net worth individuals around pension planning opportunities.  
Mairead O'Shea - Senior Manager, Capital and Impairment Modelling in Permanent TSB
Mairead qualified as an actuary in 2002 and has an MBA from the Michael Smurfit Business School.  Mairead worked in Ark Life Assurance finishing as Product Development Actuary.  In 2005, Mairead moved to a retail banking role in AIB taking up a senior manager role and held a variety of roles there until 2016 including roles on the Divisional Pricing Committee, Divisional Capital Committee, Divisional Models Committee and one of the AIB's Credit Committees.  Mairead is currently Senior Manager, Capital and Impairment Modelling in Permanent TSB.
Jenny Johnston – Director, Acumen Resources
Jenny Johnston is a Director of Acumen Resources, a specialist actuarial recruitment agency.  Jenny is a Fellow of the Society of Actuaries in Ireland and a Fellow of the Institute & Faculty of Actuaries in the UK. Jenny has participated in many SAI committees including Recent Qualifiers, Diversity and Wider Fields. Prior to joining Acumen Resources, Jenny worked in an actuarial capacity in a leading Life Insurance company, in a Business Planning and Reporting role.  Jenny is a member of the European Mentoring and Coaching Council (EMCC) and is a certified Career Coach and holds an Advanced Diploma in Executive, Leadership and Personal Coaching).