Time
6.00pm - 6.30pm: Tea/Coffee Reception
6.30pm - 8.00pm: Networking Event
8.00pm - 9.00pm: Drinks and Finger Food Reception
Venue
Davenport Hotel, 8-10 Merrion Street Lower, Dublin 2
Description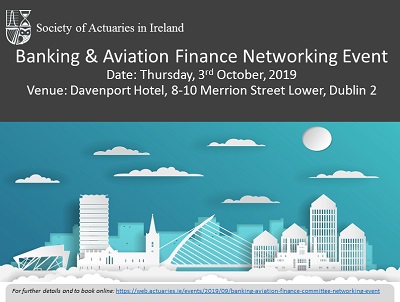 The Banking and Aviation Committee, a sub-committee of Wider Fields committee, is delighted to announce the committee's second networking event. Last year's networking event was a great success and we are back for more this year. The participants will have the opportunity to meet people working in the Banking and Aviation Finance industry with actuarial backgrounds.
We have invited a number of speakers working in different areas of the Banking and Aviation Finance industry who will occupy different stands at the event.  Our speakers will vary from new comers who recently moved into the banking and aviation industry to senior leaders in the industry. They will share their experience on their career transition and give a brief outline of what they do/how they apply their actuarial and technical skills.  Each session will have some time for questions and discussion.
Agenda
Same as last year, the evening will be set up as a "speed dating" event – each attendee will be allocated to one of four groups upon entering the room. The groups will rotate between four speaker stands every fifteen minutes. The rotations are announced by the ring of a bell.
Stand
Stand Name
Speaker
Company
1
Industry Experts
Actuary vs Banking
Niall Dillon
AIB
 
 
Tom Matthews
AIB
2
Industry Experts
Actuary vs Aviation
John Caslin
Aviva
 
 
Joseph McGinley
AerCap
3
Rising Stars
Actuary vs Aviation
Andrew Caslin
Zurich
 
 
Dominic Ryan
Avolon
4
Recent Movers
Eoin O'Connor
PTSB
 
 
Lee Naicker
ABL Aviation
Speakers/Presenters
As above.
Biographical details
Eoin O'Connor
Eoin is a Senior Credit Risk Analyst with Permanent TSB. He joined the Capital team within Credit Risk Division in Permanent TSB in December 2018. Prior to moving to banking, Eoin worked in GI pricing for 4 years after completing his degree in Actuarial Maths from DCU.
Andrew Caslin
Andrew is a qualified actuary with more than 7 year's experience in general insurance having trained in Zurich's European Head Office as a pricing actuary. More recently, he has worked on Zurich's internal capital model under Solvency II.

Andrew co-authored a paper entitled "The Fiscal Treaty, the Economic Environment & Solvency II: Possible Implications for Life and General Insurance Companies" which he presented to the Society of Actuaries in 2011. Andrew holds a BA (Hons) in Economics and a Diploma in Actuarial Science from UCD. 

Dominic Ryan
Dominic graduated from UCD in 2012 with a degree in Commerce. Following this he pursued a career as a professional athlete achieving both provincial and international honours. During his career he furthered his education at the Irish Management Institute and at the Chartered Alternative Investment Analyst (CAIA) Association. Following his retirement from professional sport in 2018 he undertook a Master's in Aviation Finance from the UCD Michael Smurfit School of Business. He has recently secured a role in the Pricing team at Avolon and is primarily working for their 'New Aircraft' sub-team.
Niall Dillon
Niall Dillon is Head of Capital Management in AIB. Capital Management drives use of capital resources, as well as determining the level and quality of capital the Bank needs to support its strategic and financial objectives, commensurate with the risks to which it is exposed. Niall previously held a number of other roles in Asset & Liability management relating to liquidity and interest rate risk management.
After 2 years in an actuarial capacity in Anglo's insurance arm, in 2010, Niall joined the Balance Sheet Management Team in the Bank where he got first-hand experience in dealing with and de-risking a Bank suffering extreme credit losses and liquidity stress.
Niall actively engages with local and other European industry bodies on the evolving Capital/SREP (and previously liquidity) regulatory environment and is a member of the Society's Banking & Aviation Finance sub-committee.
Tom Matthews 
Tom is Head of Retail Wealth Products in AIB, where he is responsible for the Life Insurance, Investment and Pension offering available to AIB customers.

Tom graduated from DCU in 2006 with a degree in Financial and Actuarial Maths and joined the product and pricing team in New Ireland Assurance, where he was responsible for introducing a wide range of product offerings to the Irish market.  In 2016, he joined Bank of Ireland as Head of Wealth Propositions prior to his move to AIB earlier this year.

Lee Naicker
Lee joined ABL Aviation, a global, full-service, independent aircraft investment firm, in May 2019. He was appointed Senior VP of Modelling and Technology in the Credit, Pricing and Debt department. The team responsible for pricing and structuring transactions, raising capital, analysing opportunities and the development and maintenance of internal models.
Lee graduated from the UCD School of Computer Science and began his actuarial career with Zurich Life assurance plc. holding a number of "traditional" actuarial roles before moving to Lloyd's Banking Group as an actuarial consultant.
Joseph McGinley
Mr McGinley joined AerCap in November 2017. He has 12 years' experience in financial markets. He previously worked at Davy Capital Markets in Dublin where he served as a Senior Credit Analyst. In his role he had primary responsibility for credit coverage of the aircraft leasing, airlines, utilities and renewables sectors. In addition, he previously worked in various roles across Davy Private Clients as well as with Danske Bank.

Joseph holds a BBLS degree from University College Dublin, and has been a CFA® charterholder since 2013. Joseph is also a Qualified Financial Advisor and a holds a Diploma in Aviation Leasing and Finance from the Law Society of Ireland. 

John Caslin
John Caslin co-authored a paper entitled "Selling Aviation Debt Securities to EU Insurance Undertakings. A salesperson's dream or not?" and together with Donal O'Brien, FSAI, he presented the main conclusions of the paper to the Airline Economics Growth Frontiers Conference which was held in Dublin in January 2019.

In April 2019, John participated in the keynote investor panel: How to align the interests of European investors with issuers at the Ishka Conference Investing in Aviation Finance: Europe in London.

He holds a Diploma in Aviation Leasing and Finance from the Law Society of Ireland and a First Class Honours Degree and Gold Medal in Engineering from Trinity College.

He has served as a director of iShares, a UCITS vehicle tracking multiple indices; a director of Alder Capital, a specialist target risk, systematic, currency and equity fund manager; and as a member of the investment committee of the board of Eagle Star (now Zurich).

John is a former chairman of the Society's Finance & Investment Committee and is currently the Head of Investment Innovation at Aviva in Dublin.
Personal Development: This is a Personal Development Event.