Time
Registration & Tea/Coffee: 2.30pm - 2.45pm
Seminar Commences: 2.45pm - 5.30pm
Drink & Finger Food Reception: 5.30pm - 7.00pm
Venue
Radisson Blu Hotel, Golden Lane, Dublin 8
Description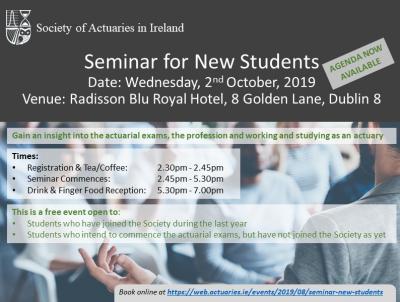 Who should attend:
Students who have joined the Society during the last year
Students who intend to commence the actuarial exams, but have not joined the Society as yet
The aim of this seminar is to:
Welcome new Students to the profession and to brief them on the role of the Society of Actuaries in Ireland
Provide Students with details of the Institute and Faculty of Actuaries exams, including upcoming changes to the syllabus
Introduce Students to the SAI Students Society and describe the benefits of membership
Provide an opportunity for new Students to meet with other student actuaries and with members of the Society.
There is no charge for members or non-members to attend, but it is necessary to book online.
The Agenda for this event is below.